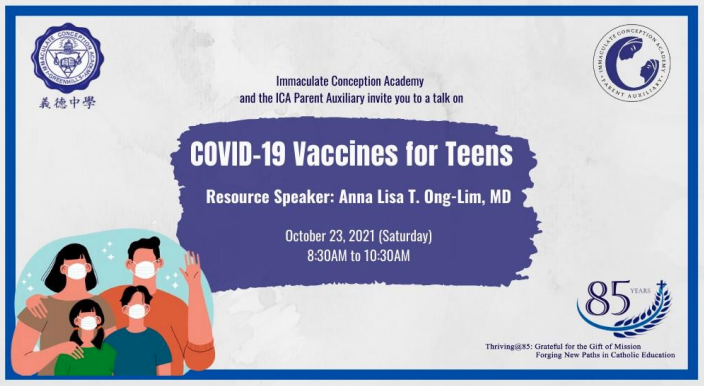 16 Nov

An Expert's Talk on Covid-19 Vaccine for Teens

An Expert's Talk on Covid-19 Vaccine for Teens

By Dr. Karen Ann Y. Lim

Vaccination has always been a part of every child's life. A child typically receives monthly vaccination to protect them against vaccine-preventable diseases. When Covid-19 pandemic started and spread like wildfire, it was a priority to discover a vaccine against it. In record time, scientists were able to develop vaccines and they were approved for use under the Emergency Use Authority (EUA) initially for health care workers, senior citizens, adults with comorbidities, for all other adults and now for adolescents aged 12-17 years old. With this relatively new vaccine now made available for teenagers, we have a lot of questions in our minds. Is this vaccine safe for kids? What are the side effects of the vaccine? Will it have a long-term effect/s on my child? Varied opinions, ideas, thoughts about the vaccine being passed around in viber groups or posts in social media added more to the confusion and in some cases, even fear.

To address all these questions and give us a better and clearer understanding of the vaccine for adolescents, the school administration in partnership with the ICA Parent Auxiliary organized a talk last October 23, 2021 with no less than Dr. Anna Lisa Ong-Lim as our resource speaker. Dr. Ong-Lim is a Professor and Attending Pediatrician at the University of the Philippines-Philippine General Hospital (UP-PGH). She serves as a member of the DOH Technical Advisory Group, the IATF Technical Working Group on COVID-19 Variants, as well as the Interim National Immunization Technical Advisory Group for COVID 19 Vaccines.  She gave an informative lecture and responded to the many questions raised. Misconceptions were clarified and apprehensions on the Covid-19 vaccine were lessened as we got to understand it better. Our heartfelt gratitude to Dr. Anna Lisa Ong-Lim for sharing her invaluable time with us. It was truly an enlightening talk.