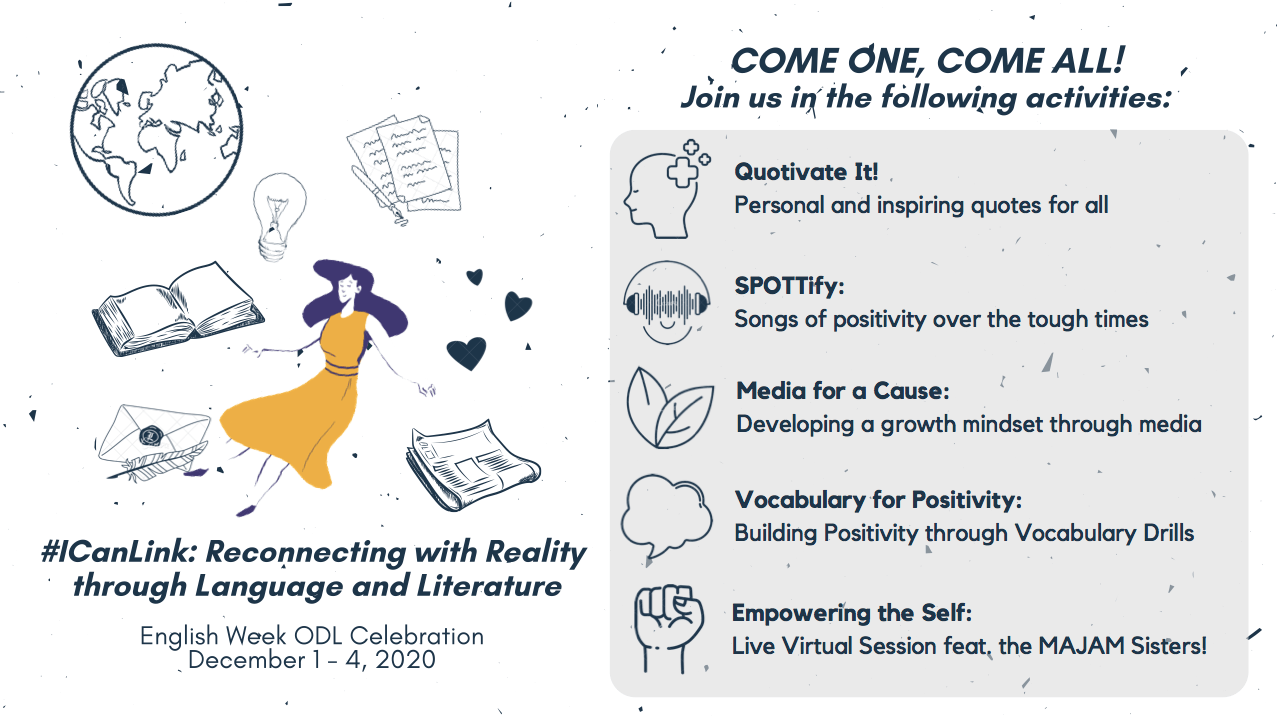 05 Apr

SHS English Week

By  Ms. Mone Virma Ginry Gumapac
Ms. Natasha Marie Navarro
Ms. Annika Barnum
Ms. Stephanie Sy

For this ODL School Year 2020-2021, the SHS English teachers came up with virtual ways to celebrate the English Week from December 1 to 4, 2020. With the theme, "#ICanLink: Reconnecting with Reality through Language and Literature", students were provided with simple yet meaningful activities where they can harness their linguistic and literary skills as well as develop a positive and growth mindset. The following are the activities that the students were able to participate in: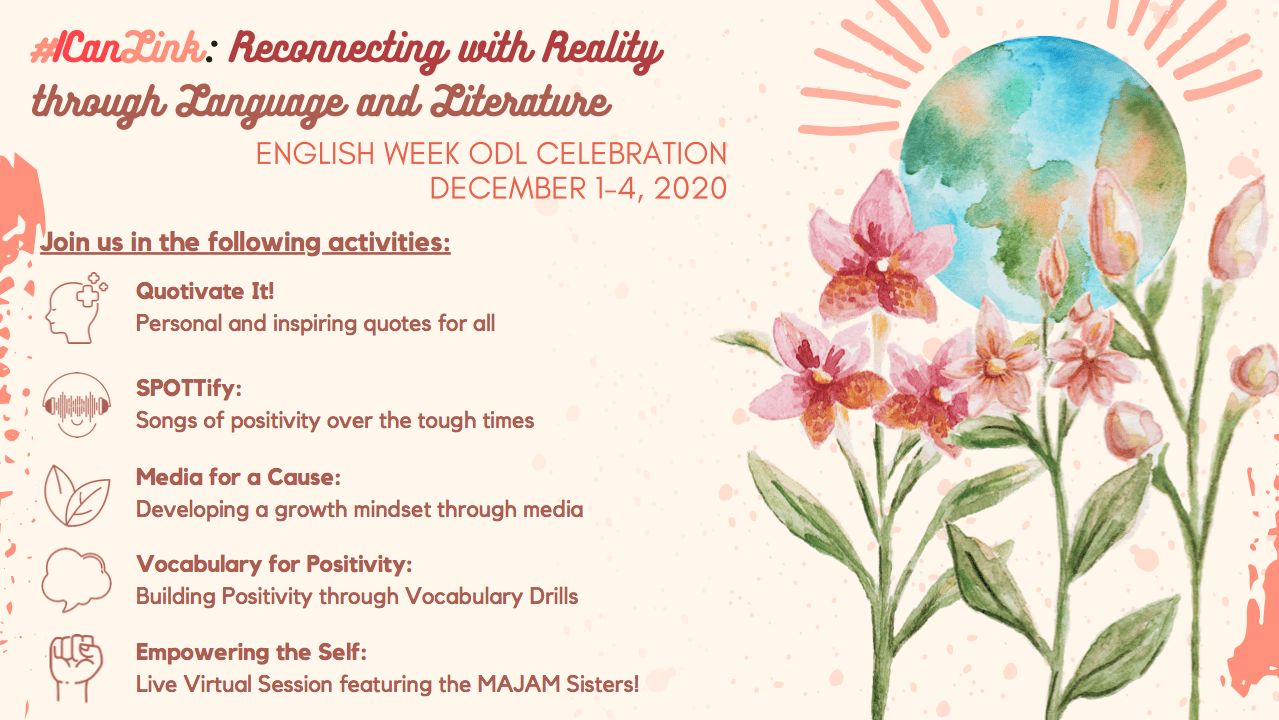 Building Positivity through Vocabulary Drills
The SHS English teachers incorporated this activity into their respective synchronous sessions. For this activity, the students were shown sets of words, phrases and sentences which they can use in their daily utterances or conversations. These verbal expressions highlight the power of positive thinking. This activity aims to empower the students to develop a positive mindset and proactive thinking.
Creating an Inner Balance through Music
In this activity, students were asked to suggest empowering and inspiring songs that young people of today listen to. Along with these songs, they included uplifting messages for their classmates and peers to help them deal with the challenges caused by the pandemic. The songs and messages were shown through a video and were played during the transfer time. Through this activity, students were reminded to be motivated and hopeful despite the challenging situations they are experiencing.
Developing a Growth Mindset through Media
This activity aims to develop a growth mindset among the SHS students through the various forms of media posted on the Homeroom Google Site of each class. These postings were given daily during the SHS English week. Each medium given to the students presented the significance and concrete ways of developing a growth mindset especially at this period of change. After viewing the material, the students were encouraged to share through Padlet their personal insights or experiences that exemplify this proactive way of thinking.
Empowering the self and others through a Virtual Live Event
Music, a gift of language and literature, has the ability to empower individuals to redefine themselves, gain resilience, connect with other people, and make a difference in society. It is in recognition of these that the SHS English Department, together with two talented ICAn hosts, Bianca Camacho from 11-Justice and Erin Ty of 11-Mercy, facilitated a virtual music session entitled "ICAJAM: Empowering the Soul through the Language of Music" featuring the MAJAM SISTERS. Sisters, musicians, YouTube sensations, and former ICAns, Abby and Audrey Vy graced the one-hour event with a mashup of pop songs that truly left a note in the students' hearts. The guest artists also participated in a short interview where they shared inspiring thoughts on the importance of language and literature in connecting with their inner selves and the people around them.
These English Week activities were crafted with the goal of rewiring students' lifestyles and actions by allowing them to refocus on what is truly essential during these trying times. It is with high hopes that students will be able to continue to embody the school's mission and vision of forming ladies of faith, excellence and service amidst the inevitable changes brought about by the pandemic.