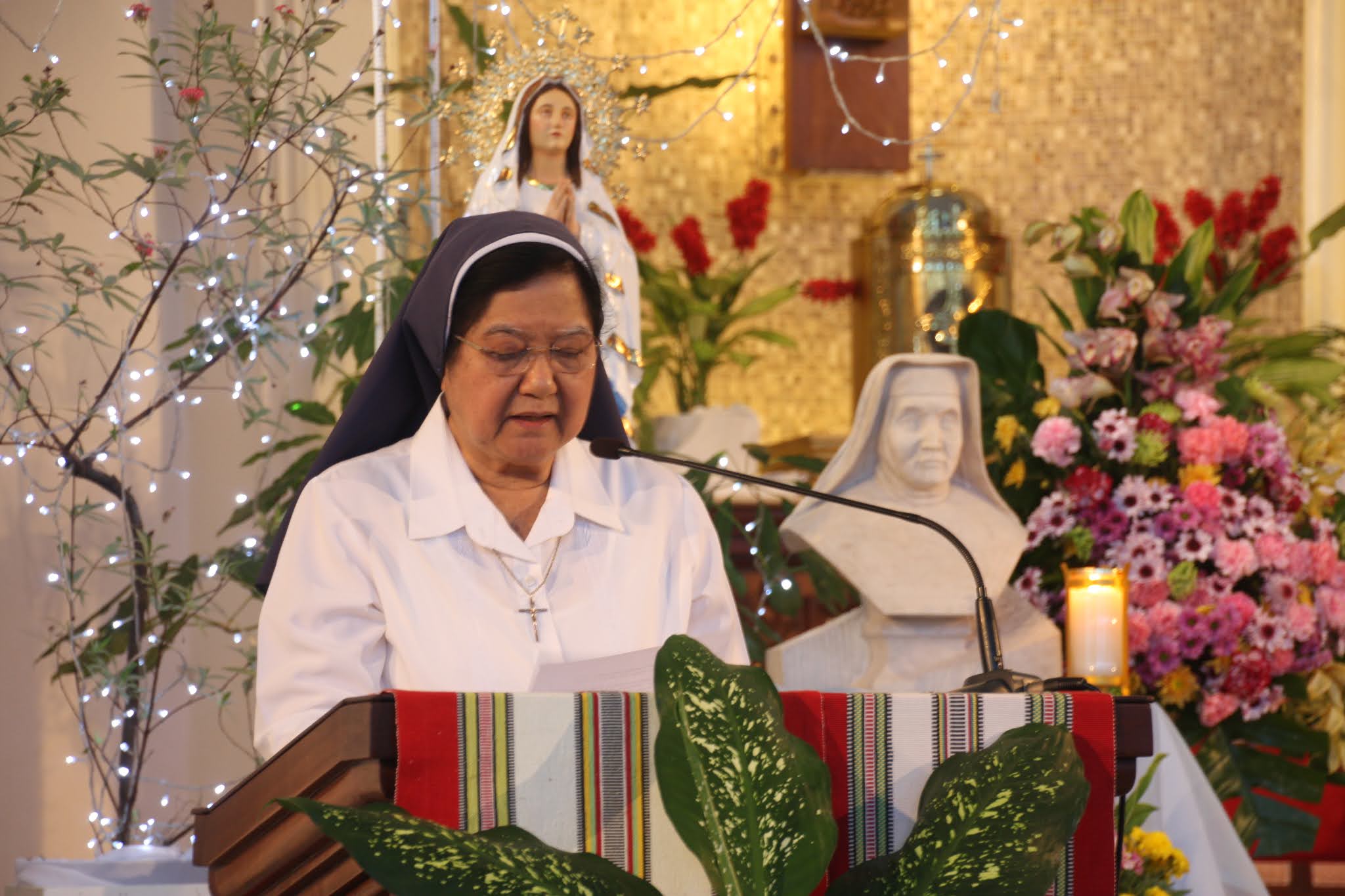 19 Feb

Opening Speech of Sr. Irene for ICA's 85th Founding Anniversary and 100 Years of MIC Presence in the Philippines

Good morning everyone! On behalf of the Missionary Sisters of the Immaculate  Conception headed by Sr. Regina Villarte, Provincial Superior, ICA's Board of Trustees,  and the Administration, I warmly welcome all of you to this Eucharistic Celebration to be  presided by Msgr. Esteban "Bong" Lo, LRMS, National Director of the Pontifical  Mission Societies. On this special occasion we are formally launching the year-long  celebration of the 100 Years of M.I.C. Presence in the Philippines, and ICA's 85th  Founding Anniversary with the theme "Thriving@85: Grateful for the Gift of Mission"

Forging New Paths in Catholic Education."  As a community, we find it also fitting to integrate the celebration of the Chinese New  Year. How blessed we are to have this jubilee year as the nation celebrates the 500 Years  of Christianity in our country with the theme "Gifted to Give".

We have many reasons to offer our thanksgiving to God, even in the midst of this crisis.  Gathered as God's people, may we be inspired by the song, We Remember, which we  sing at times as a proclamation of the mystery of our faith in Masses: We remember how  you loved us…We remember, we celebrate, we believe.

First, we remember how God has loved us. Celebrating anniversaries provide us  opportunities to go back to our roots and our humble beginnings. We are grateful for the  gift of faith and the gift of mission. Venerable Delia Tetreault, our Mother Foundress,  whose 156th birth anniversary we celebrated yesterday, sent the first M.I.C.'s to China in  1909, seven years after our foundation. Indeed, the Chinese people were very close to her  heart. In fact, the Sisters served the Chinese immigrants of Canada as early as 1913  through varied works. Their selfless service of taking care of the sick Chinese in a small  emergency hospital during the influenza epidemic of 1918 was publicly acknowledged by  the Chinese Association of Montreal in the Chinese newspapers. Moreover, the  government of China gave Mother Foundress a gold medal as a token of gratitude.

It is not surprising then that in 1921 Mother Delia granted the request of Archbishop  Michael O'Doherty of Manila, to send Sisters to staff the Chinese General Hospital. Four  of those Sisters came from the mission in China so they spoke the Chinese language and  knew the Chinese culture. The evangelizing efforts of those pioneering M.I.C.'s led by  Sr. St. Pierre Claver, resulted in the establishment of "The Little School" on top of a  hardware store in Binondo, Manila which later became Immaculate Conception Anglo Chinese Academy, and eventually ICA Greenhills. In succeeding years, other Canadian

M.I.C.s arrived to continue the work, and to open new missions in other parts of the  Philippines.

Second, we celebrate for God is with us here. ICA, the first M.I.C. school in the  Philippines, continues to thrive at 85 with the help of God's grace because it is anchored  on the Gospels and the teachings of the Church, as well as those of Venerable Delia  Tetreault. We continue to be inspired by her famous words: "God has given us  everything, even His only Son, what better way of making returns – in so far as a weak  creature can do so in this world – than to give Him children, chosen ones, who will also  sing His goodness for centuries to come!"  

We celebrate God's creative power, faithfulness, and merciful providence experienced by  us in varied remarkable ways through the years. To God be the glory for all our  accomplishments made possible by the hard work of many people! We have been blessed  with administrators, supervisors, teachers, office and maintenance staff, and other  personnel, who have tirelessly given themselves to ensure excellence in all aspects of  ICA education and formation. The school and the M.I.C.'s are deeply grateful for their  commitment as our mission partners.

We also celebrate the strong collaboration and support of our alumnae, parents,  benefactors and friends, not only in good times, but most importantly, in challenging  times. Thank you for your continued trust and belief in our mission! With you, and the  school personnel, ICA will continue to thrive even beyond the pandemic.

Third, we believe. Our celebration of this jubilee challenges us to move forward with  hope and prepare for the future. Yes, we believe that God will see us through this crisis.  We ask the Holy Spirit to guide and enlighten us as we discern and plan for the coming  school year and beyond. In this regard, I am inspired by what Pope Francis said in his  latest book: Let Us Dream: The Path to a Better Future, "From this crisis we can come  out better or worse. We can slide backward, or we can create something new. For now,  what we need is the chance to change, to make space for the new thing we need." In  another part he said, "This is a moment to dream big, to rethink our priorities – what we  value, what we want, what we seek – and to commit to act in our daily life on what we  have dreamed of. God asks us to dare create something new."

Let us then forge together new paths in Catholic education. With the passion and strong  service orientation of every member of the school community, we will remain faithful to  our Vision of forming "women of faith, excellence, and service" and to our Mission of  "providing quality Catholic education to Chinese Filipino girls…". We shall continue  innovating, and re-imagining ICA, upgrading our facilities not only for Online Distance

Learning but for eventual face-to-face learning or hybrid learning. We stand strong and  courageous to face the challenges in our mission because we believe in Christ's  assurance, "I will be with you until the end of time." Therefore, we remember, we  celebrate, we believe.

To our dear pupils and students, I hope you will remain grateful for the education and  support you are receiving at home and in ICA. We are forming you to be empowered  women leaders of our country. We see you as signs of hope in this crisis. We believe in  you and we share your dreams of a better world. With God's grace and Mama Mary's  guidance, may you shine like the stars and follow in the footsteps of ICAns who continue  to make a difference in society.

Lastly, I thank all of you for celebrating with us this milestone. As a faith community  then, let us offer this Eucharistic Celebration as our thanksgiving to God for the abundant  blessings that we have received through the years. May God bless you and your families!  Xinnian Kuaile!