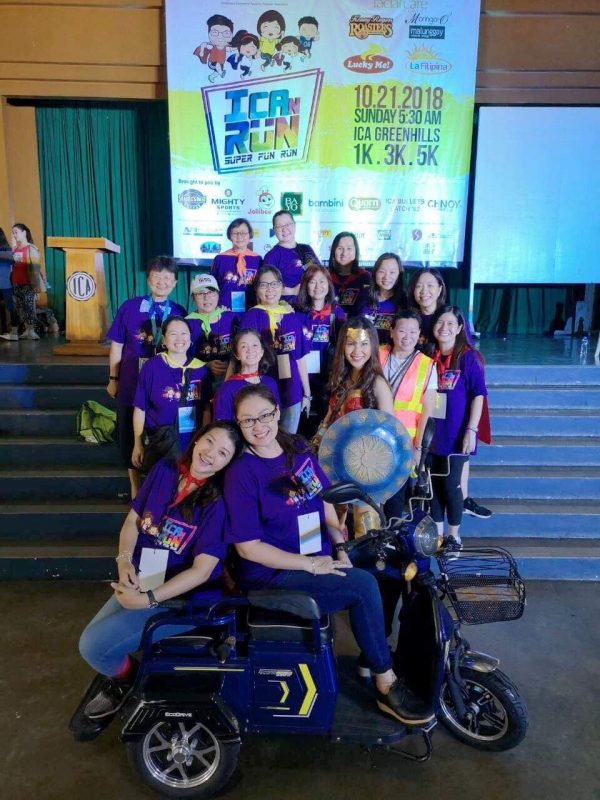 23 Oct

This Is How We Run

By:  Geraldine Tan-Lim, ICA Batch 1988
Last October 21, 2018, close to 1500 runners from the ICA community joined ICAn RUN:
Super Fun Run, the 1 st ICA Family Fun Run. A project of the ICA Alumnae Association, the objective was to strengthen relationships by bringing the ICA community together for a common goal. The event was to benefit the various projects of the association, most specially the MIC Wellness Center.
Runners chose from three distance categories – 1km, 3km, and 5km. Everyone was invited to come in their most SUPER, POWERful, COLORful, and WACKYiest outfits to win special prizes.
It was indeed a beautiful sight to see our young ones and young once don their FUN costumes, wigs, and capes to enliven a morning that started cold and wet.
No one seemed to mind the drizzle as participants gamely ran, walked, and strutted the rains away. The atmosphere was festive with booths and Zumba, and celebratory with raffles, giveaways, food and drinks, and awards galore.
On behalf of the ICAAA Officers of SY 2018-2020, we joyfully thank the whole ICA community for the
overwhelming support and for showing that ICAns can definitely RUN!