15 Sep

Relief Operation in ICA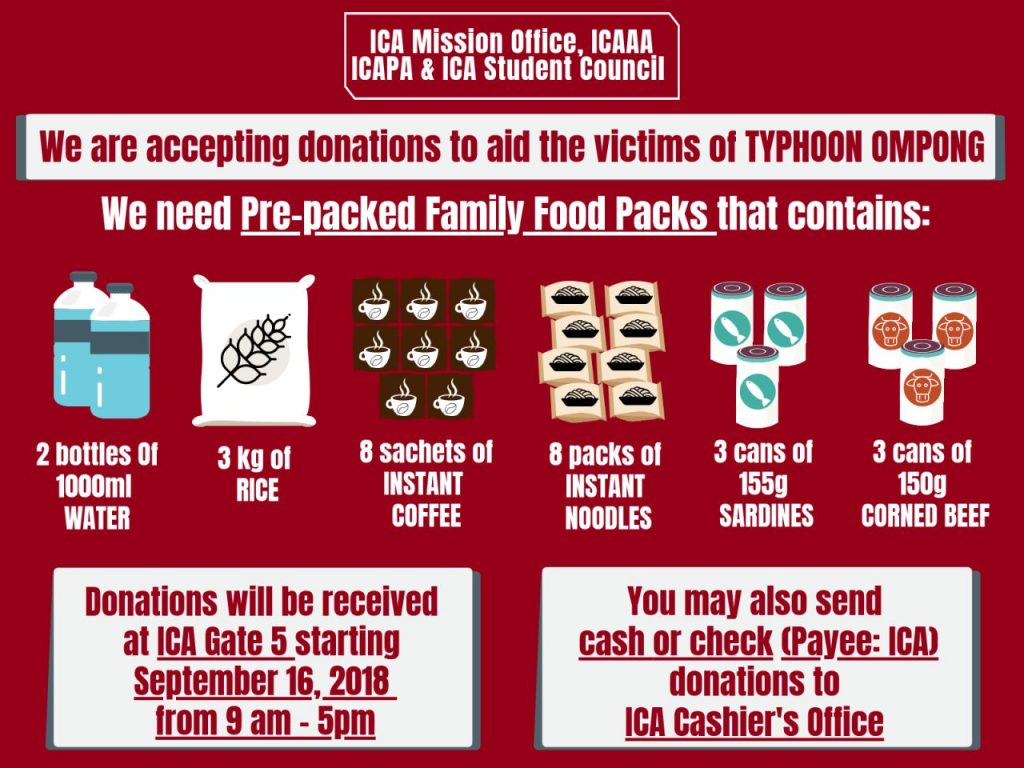 ICA Mission Office through its partners ICA Alumnae Association, ICA Parents' Auxiliary and ICA Student Council, would like to appeal to your generous hearts to help our affected brothers and sisters get through this difficult time of displacement and destruction from the might of typhoon Ompong.
We are accepting donations for a Pre-packed FAMILY FOOD PACK composed of the following items:
• 3 kilos of RICE
• 8 sachets of COFFEE
• 8 packs of INSTANT NOODLES
• 3 cans of 155g SARDINES in easy open cans or tetra packs
• 3 cans of 150g CORNED BEEF in easy open cans or tetra packs
• 2 1000ml BOTTLED WATER
We request that the items be packed in either an eco-bag or a box for better handling and distribution.
Donations may be dropped of at ICA Gate 5, Washington Street starting September 16, 2018, Sunday from 9:00 a.m. to 5:00 p.m.
You may also send cash or check (Payee: ICA) donations to  ICA Cashier's Office so that an Official Receipt will be issued.
Thank you for your generosity and may God continue to bless us as we help others.