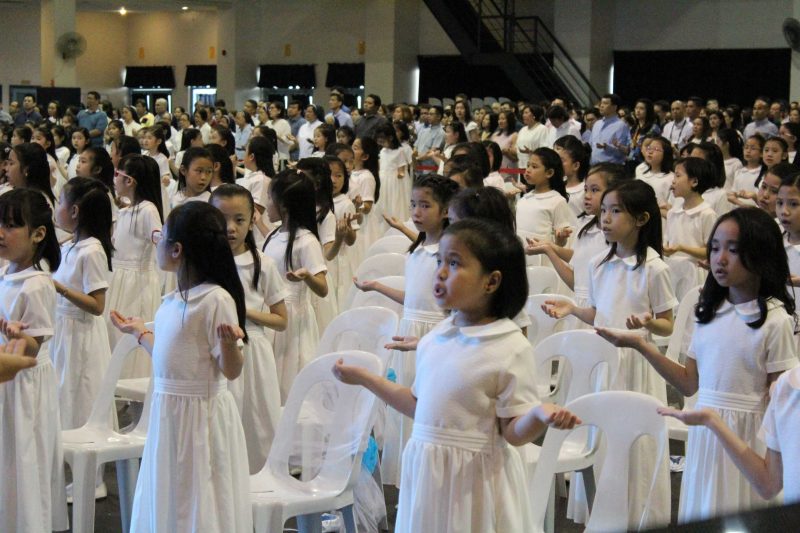 16 Jan

A Milestone of JOY!

December 2, 2017 was another blessed day for ICA!  With God's grace, the school accomplished another mission: bringing children closer to Jesus as envisioned by our dear foundress, Venerable Delia Tetreault.
223 pupils in 3rd Grade class and a 5th Grader received Jesus for the first time in the Sacrament of the Holy Eucharist with Msgr. Esteban "Bong" Lo, LRMS as the main celebrant.  The occasion was witnessed by the pupils' teachers, the MIC Sisters and, of course, their parents who accompanied them to the altar.
Msgr. Bong Lo, in his homily, expressed hope that it will not be the first and last communion for the girls.  He challenged the parents to bring the children to their second, third, fourth… and nth communion.  And if needed, the girls should remind their parents of this sacred responsibility.
The event was made more meaningful and memorable with the support of the class representatives of each section under the leadership of their very committed level representative, Mrs. Carolyn Ong.
It was indeed a joyful day!  Our pupils received what Mother Delia has always considered the greatest gift- Jesus Himself!
For the ICA community, the First Holy Communion of the Grade 3 pupils every first Saturday of December is its gift to Mary on the occasion of the feast of the Immaculate Conception.
To God be the glory!