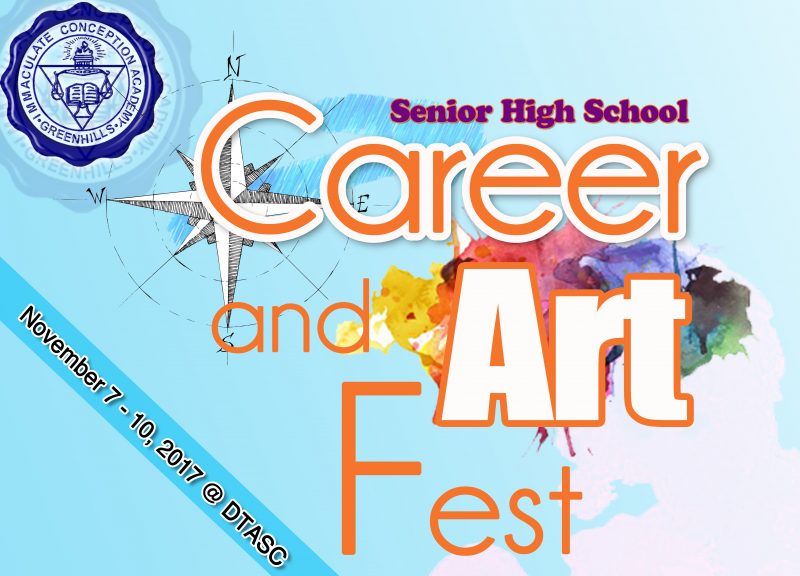 11 Dec

Career and Art Fest 2017
Career and Art Fest 2017: Tuklas Sining and Strand Based Learning
Last November 7-10, 2017, the Senior High School held its annual Career and Art Fest. This year, two of the major events were Tuklas Sining and Strand-Based Learning.  Both events gave students opportunities to discover their creativity, manifest collaboration and gain a better understanding of the different fields and careers underlying their academic strands.
Tuklas Sining featured the Buenas Artes Art Group, spearheaded by Master Fernando Sena, the Father of Philippine Art Workshops, which conducted plenary sessions and art capsules that engaged the students in using various media of art expression such as clay, water color and oil pastel. Our guests from Malolos, Bulacan taught the students the importance of preserving our Filipino heritage through workshops on "puni", "pabalat" and cooking of traditional Filipino dishes. The event also saw the return of two of ICA's alumnae. Relyn Tan gave a presentation on film making while Sofia Coyiuto shared her experience in the film and documentary industry. Other resource persons talked about contemporary arts such Adobe Animate and Mobile Photography.
The Showcase of Filipino Talent, an art exhibition and sale, put on display paintings and sculptures of the Buenas Artes Art Group. The art exhibition was open to all ICA parents and alumnae from November 7-10, 2017 at the Delia Tetrault Arts and Sports Center (DTASC).
This year's Career and Art Fest included Strand- Based Learning activities where students attended talks and workshops depending on their academic strand. The ABM students learned about social entrepreneurship, the effective ways of creating a sales pitch and the importance of power dressing in a corporate set-up in the The Busyness of Business and #Girlboss. Meanwhile, students in HUMSS participated in workshops on horror fiction writing and photography. The Literary Festival also gave the students a chance to interact with Filipino authors from Adarna, Anvil and Ateneo Publishing Houses. Lastly, they listened to speakers talk about how as Filipino citizens, they can contribute to nation building. On the other hand, the STEM students joined a first aid training facilitated by Red Cross. They were also treated to a science and technology themed event known as Zeteo Quest, a Mobile Edutainment Exploration, where they solved puzzles and accomplished challenges testing their imagination, creativity, critical thinking and collaboration. Speakers from PAG-ASA, Unioil and the UP Diliman DNA Laboratory also shared their knowledge on weather study and prediction, the petroleum industry and engineering as a career and DNA analysis respectively.
The complete roster of speakers and workshop facilitators included Master Fernando Sena, Mr. Elunio 'Onio' Faraon, Mr. Joemarie Sanclaria Chua, Ms. Mary Ann Esteban Cuevas, Mr. Naning Molata Gavin, Ms. Divine Correa, Ms. Katrina Aniag, Mr. Leo Emmanuel Castro, Ms. Gladys Jose, Ms. Rheeza Hernandez, Ms. Natividad Ocampo-Castro, Mr. Ferdinand Talbenito Jr., Ms. Gracey Viňas, Ms. Joy Celine Asto, Mr. Alberto Magsambol, Mr. Joel Guevarra, Ms. Relyn Tan, Ms. Sofia Coyiuto, Mr. Michael Bala, Ms. Aileesa Lim- Chua, Ms. Fides Gimenez, Mr. Henrich Cu, Mr. Matthew Kendrick Ong, Ms. Kristy May Castillo, Ms. Miriam Ruth M. Dalet, Ms. Minerva S. Sagum, Dr. Mina Ramirez, Ms. Jezreel Domingo, Ms. Berna Sastrillo, Mr. Allan Derain, Mr. Larry Monseratiojo, Mr. Karl de Mesa, Ms. Cyan Abad-Jugo, Ms. Bebang Siy, Ms. Helen Naddeo, Mr. Jackson Rodis and the facilitators from LRN Ventures.