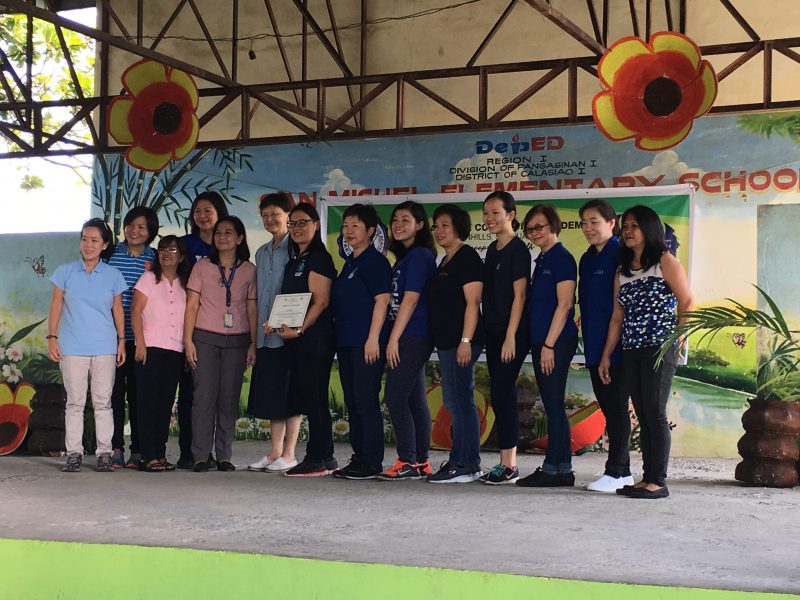 04 Dec

Upuan Para Sa Karunungan

By Janice Fernandez & Kimberly Bairan

 
The Immaculate Conception Academy Alumnae Association (ICAAA) in collaboration with Toyota Dagupan and Lift A Heart Foundation (composed of members of the Class of 1981), held its outreach activity entitled 'Upuan Para sa Karunungan' on August 16, 2017 at Calasiao, Pangasinan. The project aims to replace old, rotten, dilapidated wooden chairs with Uratex plastic school chairs, as an effort to aid the schools especially in times of flooding. The plastic school chairs are more durable, easier to clean, which would be beneficial to the school. The students were each presented a backpack filled with various items like a kilo of cocoa powder, different kinds of biscuits, pad paper, Mongol pencils, together with a rosary.
This outreach activity was reminiscent of the kind of outreach we had during our days in ICA— eye-opening, memorable, and inspiring. Again, we had the opportunity to bring smiles to the faces of our fellow brothers and sisters. It was a sight to see the happy faces of the children as they received our gifts. It reminded us that, in our own ways, we can have a role in nation building. We learn to share our blessings with others and in turn, we should teach them to share their blessings to others too. It is through this simple act that we help in planting and nurturing the seeds in God's kingdom. True enough, it is a blessing to be able to reach out to students in the hopes of encouraging them to study hard and strive for academic excellence.
It was definitely a heartwarming experience as we were able to, once again, engage with students, teachers, volunteers, and the countless individuals who enthusiastically gave their time and effort to make a difference. We were also able to meet and bond with our "achies" who were so accommodating, friendly, and insightful. It was great to see them so active in the ICAAA activities and to hear them share their stories. They are living proof of God's working hands.
We are also happy to say this simple yet exceptional outreach program has reignited our passion to serve and be of service to others. We are truly grateful to ICAAA for organizing the outreach program and making the time to continually lead the "Upuan Para sa Karunungan" for 9 years now, in cooperation with Toyota Dagupan. We highly encourage ICAns to join in this humble effort because it was a great experience being able to help in touching their lives and their hearts.