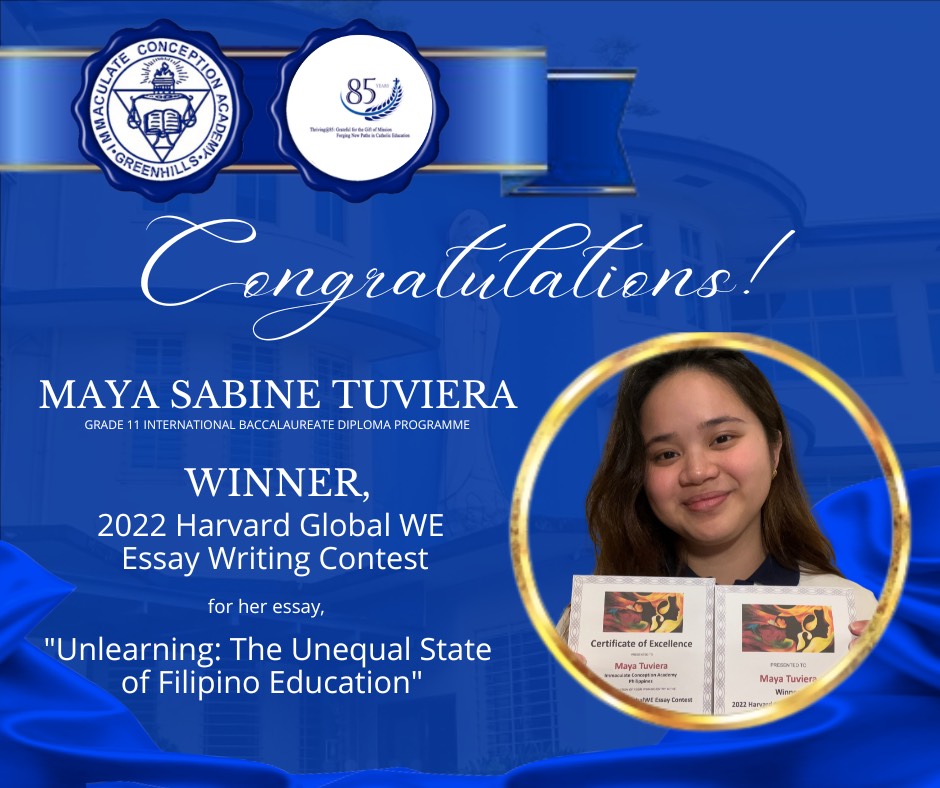 23 May

Harvard Global Women Empowerment Essay Contest 2022

HARVARD GLOBAL WOMEN EMPOWERMENT ESSAY CONTEST 2022

by Mrs. Krissel Joy Sabado

The Harvard Alumni for Global Women's Empowerment (Harvard GlobalWE) is a shared interest group of the Harvard Alumni Association. They are dedicated to the empowerment of women through education, dialogue and connection among individuals working for women's rights and freedom worldwide. One of their programs is the annual GlobalWE Essay Contest which was established to invite students to think critically about the status and rights of women in the society.

Maya Tuviera of 11-Counsel was hailed as the winner of the 2021 Harvard GlobalWE Essay Contest with her exemplary work entitled "Unlearning: The Unequal State of Filipino Education". She received an e-certificate, a bookplate, and a Book Prize award.

The SHS English Area virtually launched the Harvard GlobalWE Essay Contest to Grade 11 students of the Immaculate Conception Academy Greenhills from November 8 to 11, 2021 during the SHS English Week Celebration. The objectives and mechanics of the said contest were presented by the Grade 11 English teachers in their respective synchronous classes.

From December 2021 to February 2022, 23 students coming from different sections in Grade 11 submitted their entry forms and their well-crafted essays in response to the essay question, "What is the biggest challenge facing women and girls in your country today?".

This international competition served as a great opportunity for the ICAns to manifest their responsible and active engagement in various socio-political issues affecting the women of today.