16 Sep

THE VIRTUES PROJECT: Virtues are Caught (not simply) Taught

THE VIRTUES PROJECT: Virtues are Caught (not simply) Taught

 By: Ms. Dianalyn Carag

On August 14, 2021, the Grade School department held a parenting webinar entitled, "The Virtues Project (TVP)"  to assist parents in  the virtues formation of their children.  The talk was facilitated by Mrs. Grace Lim-Pineda, an alumna (Batch 1990) who introduced this framework to ICA in 2015. She was assisted by Mrs. Kerry Tremblay, a Virtues Project Master Facilitator. The session was further enriched by Mrs. Timi Rae Lai, another alumna (Batch 1987) and now an ICA parent, with her testimony on the effectiveness of speaking the virtues language among her children.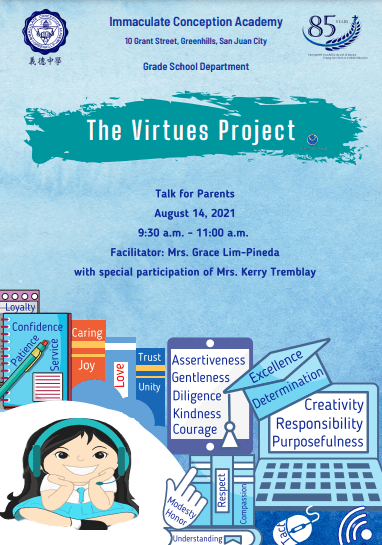 The Virtues Project aims to inspire the practice of virtues in everyday life.  According to Linda Kavelin Popov, author of "The Family Virtues Guide,"  there are 5 simple ways in creating a culture of character. These strategies are (1) speaking the language of the virtues, (2) recognizing teachable moments, (3) setting clear boundaries, (4) honoring the spirit and (5)  offering spiritual companioning. 
Mrs. Pineda presented each strategy with a point of reflection which was very helpful in developing new and gentle ways or habits on dealing with certain issues (may this be at home, in school, or anywhere else). The strategies encourage  everyone to be more discerning not only of the people and the events that  are happening  around him/her  but most especially with what is taking place within. Mrs. Pineda emphasized  the importance of training the eyes to "catch the virtues" thus, regular practice is needed in order to get used to seeing the virtues and speaking the language.  
Virtues cards were presented to the participants. They were encouraged to take a look at the list and choose which among the virtues they see in themselves and feel they need to grow and cultivate more.  The Question-and-Answer portion  at the end of the session did not only clarify things but also  gave the participants an opportunity to reflect on how they are doing as parents, especially in helping their children to be the best version of themselves.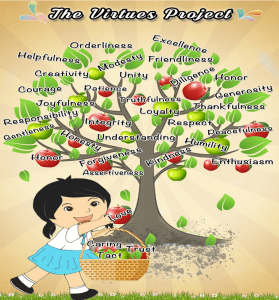 Indeed, the talk opened many doors of new learnings among the 260 participants.