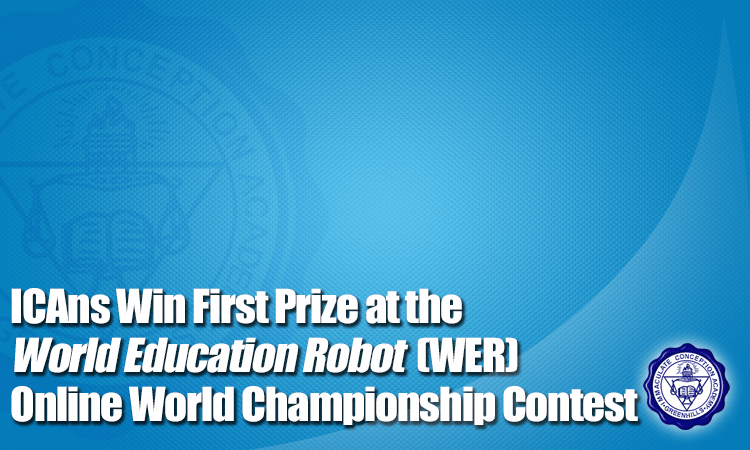 08 Jan

ICAns Win First Prize at the World Education Robot (WER) Online World Championship Contest
---
By:
Mrs. Blancaflor B. Barrion 
HS Computer and Robotics Education Supervisor
---
---
The school congratulates the team of Denise Angelivwyn of Grade 9 Kindness and Deanne Angelikah Ang of 9 Purity for winning First Prize in the Brick Educational Robot Series (4+3) Middle School Division in the World Educational Robot (WER) 2020 Online World Championship Contest.
The contest was held online last December 12 and 13, 2020 and was participated by different teams from the Philippines.  Other countries like China, Macao, and UK also held hybrid onsite and offsite contests in their respective areas last year.
Deanne and Denise also won the overall 2nd place during Round 1 and overall 3rd place of the entire competition in the WER 2019 competition held in Shanghai, China.
The sisters hope to join the competition every year.  According to the girls they really love Robotics and would never want to stop learning it.
Last October 2020, they were awarded with the Youth Excellence in Service (YES) Award by the Department of Science and Technology (DOST). YES is a DOST award for exemplary achievement in the field of Science and Mathematics among the youth.  Recipients of this award are Filipino students who have won gold, silver and bronze medals in the individual or team category in international Science and Mathematics competitions.